With four successful seasons containing five parts of the Joestar adventures, fans have been waiting eagerly for fresh episodes of the franchise.
With the arc of Giorno Giovanna coming to an end in Part 5, the production team will be busy for preparing Part 6 of JoJo, which is Stone Ocean.
1. Release Date
Jojo's Bizarre Adventure Part 6: Stone Ocean anime season has been confirmed by the production team.
Although there has been no update regarding its release date so far.
Till then, all we can do is not lose hope in the face of the virus. Speaking of faces, fans are theorizing how the new look of the upcoming season will come out.
But, before we get into the episode of a new Joestar member, let's dial back and recollect what happened in Part 5.
Do you disagree? Do you have other theories? Well, great.
Have more epic discussions with us and our community in the Official Epic Dope Discord Server! Let's goooooo!
Join Now
2. JoJo's Bizarre Adventure: Part 5
Adapted from Hirohiko Araki's manga's fifth volume, the season focuses on Giorno as he attempts to overthrow the gang's mysterious boss, Diavolo.
With the ability to erase time and predict the future, Diavolo's stand, King Crimson is almost invincible and difficult to defeat.
Giorno and his crew face him, but many of his members die in the process.
Fans remember Bucciarati's tragic death, but his undying spirit lived on to encourage his friends to go forward and become the leaders of Passione.
As season 4 concludes with this arc, the next season will incorporate the final arc into a season 5.
Season 5 will consist of Part 6 of the manga, which is the final part in the first timeline of JoJo. This story follows Jolyne Cujoh.
3. Plot of Stone Ocean
Stone Ocean serialized in the manga form 2000 to 2003. The sixth arc spans over 158 chapters, enough material to make a new season.
The story is set in 2011, years after the events of Vento Aureo, and Jolyne Cujoh, daughter of Jotaro, is wrongfully accused of a murder she didn't commit and sent to a maximum-security prison.
While imprisoned, she struggles within a plot agreed between the dead villain Dio and his loyal follower, Enrico Pucci.
Jotaro attempts to free his daughter but instead gets something important stolen from him.
Jotaro plays an important role in this arc after Part 3, and fans would be happy to see The World in its entirety again.
But how much longer do the fans have to wait?? Let's check that out now.
4. Key Visuals & Trailers
Since it is officially confirmed, Part 6 will adapt the Stone Ocean volume in its entirety. The official website revealed a visual for the upcoming anime.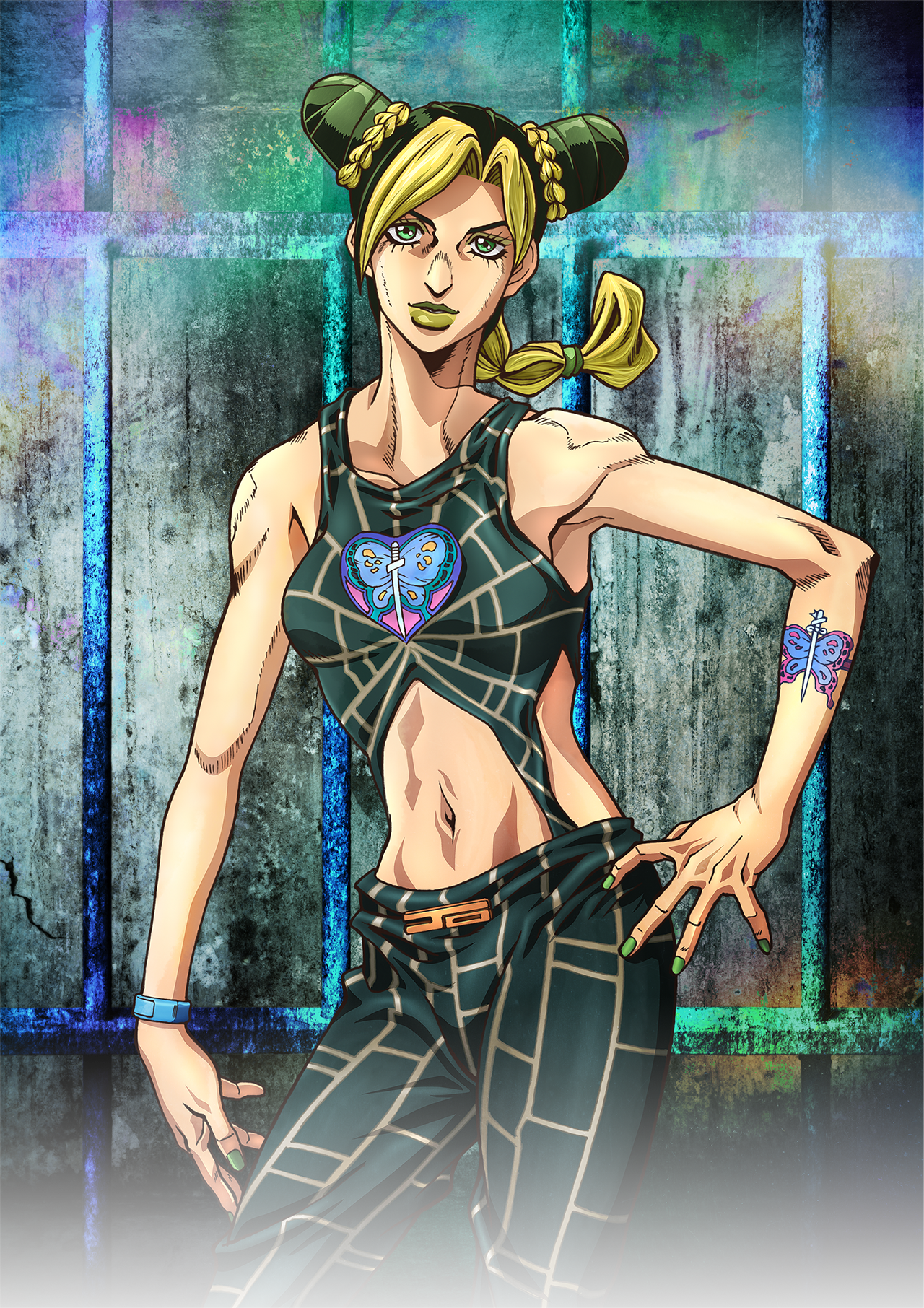 A teaser was released with the tweet confirming its anime production.
The trailer starts with introducing all the members of the Joestar bloodline before placing its focus on Jolyne. It ends with Jolyne's catchphrase, "yare yare dawa" which means "give me a break".
5. Anime Production
I. About the Studio
David Production has remained loyal to JoJo so far. With great adaptations from art to the story, it would be a moot point to change studios now.
Besides JoJo, the animation studio also worked on Cells at Work, Fire Force, Ensemble Stars, Captain Tsubasa (2018), and more.
Though up till now the JoJo adaptations have remained faithful to the manga, the fans think that the studio might change up a few things of how Part 6 ends.
II. Animation Quality
The studio has done a wonderful job in bringing Araki's art to life in the previous seasons.
The animation, lighting, cinematography, movement all could be rated 10 on 10, if not for the number of still shots throughout the show.
The colors especially adhere to Araki's manga scheme. There is no particular canon color palette as such, but using abstract backgrounds during monologues shows a very innovative manner of using the low budget.
III. The Director
Naokatsu Tsuda may take up directing for the new season of JoJo as well. He has directed other anime like Inu x Boku SS, and Planetarian.
Kenichi Suzuki has worked on JoJo too along with notable names such as Drifters, Fairy Gone, and Hataraku Saibou (Cells at Work).
IV. Other Updates
Fans are excited to know when the anime produced by David Productions is going to return.
Viz Media shared a panel via Twitter, walking through the past experiences of Ray Chase and Phill Reich.
In the interview, Ray discussed how the preparations were for developing the voice of a native Italian, and how the voice actors of Part 6 were to learn Floridian.
With all the hidden crumbs we have found about JoJo's Stone Ocean, let's not forget how it all started!
6. Recap
JoJo the animation series follows the intergenerational feud between the Joestar Family and various forces of evil, most prominently Dio and his followers.
I. Part 1
Season 1 has adapted the first two parts of the manga.
The first part, Phantom Blood, follows Jonathan Joestar as he matures and combats his adoptive brother Dio Brando who became a Vampire with the help of a Stone Mask.
Jonathan trains under Will Zeppeli in the vibrant energy of Ripple which is wielded in the human body and transferred in hand-to-hand combat. It is the only way of defeating Vampires and Zombies.
II. Part 2
The second part, Battle Tendency, is about Jonathan's grandson Joseph Joestar who crosses the world to 1938 to combat Pillar Men.
This race is responsible for the creation of the Stone Mask, and like his grandfather, Joseph learns Ripple alongside Caeser Zeppeli.
They try to protect a gem sought by Pillar Men, Red Stone of Aja, which is needed to complete a Stone Mask and grant the Pillar Men immunity from the Sun.
III. Part 3
Stardust Crusaders is set in 1989, as Jotaro Cujoh journeys with Joseph and other from Tokyo to Cain to fight Dio.
Dio returns from the depths of the sea, and Jotaro has to save his mother from Dio's mystical influence.
From now on, villains and allies both use Stands, a humanoid representation of a person's spirit.
Jotaro possesses the famous stand, Star Platinum that goes ORA ORA ORA while punching his enemies.
IV. Part 4
Diamond is Unbreakable is the fourth part set in 1999, Japan.
The story centers around Joseph's son Josuke, as he meets friends and enemies among the new stand users.
Josuke, Jotaro, Rohan, and more eventually chase a serial killer Yoshikage Kira.
V. Part 5
Vento Aureo is set in Italy, 2001 and is about Dio's son Giorno. He fights his way to the top of Passione, a mafia gang, and wants to overthrow the boss, Diavolo.
Co-operating with his team and new gang members, Giorno protects Trish Una from assassins, all the while trying to protect civilians from the gang's drug trade.
7. Cast & Staff
The cast and staff of JoJo Part 6 have not been officially announced, but they are likely to remain the same as before.
However, character designer remains unknown as there have been different ones for the last three seasons.
The following are the probable cast and staff members for the upcoming JoJo Part 6:
I. Staff
| | |
| --- | --- |
| Director | Naokatsu Tsuda and Kenichi Suzuki |
| Series Compostion | Yasuko Kobayashi |
II. Cast
| | | |
| --- | --- | --- |
| Character | Voice Actor | Famous Works |
| Jolyne Cujoh | Miyuki Sawashiro | Kurapika (Hunter x Hunter 2011), Celty (Durarara) |
| Jotaro Cujoh | Ono Daisuke | Sebastian (Black Butler), Shizuo (Durarara) |
| Enrico Pucci | Jouji Nakata | Alucard (Hellsing), Kirei (Fate/stay night) |
8. About JoJo's Bizarre Adventure
JoJo's Bizarre Adventure tells the story of the Joestar family.
A family whose various members discover they are destined to take down supernatural foes using powers that they possess.
Each part of the show follows one member of the Joestar family; as a result, the stories are told over multiple generations.
Originally Written By Epic Dope
Sometimes we include links to online retail stores and/or online campaigns. If you click on one and make a purchase we may receive a small commission. For more information, go here.
Do you disagree? Do you have other theories? Well, great.
Have more epic discussions with us and our community in the Official Epic Dope Discord Server! Let's goooooo!
Join Now